Education for Hair Stylists, Nail Technicians and Estheticians
Barber program classes at Designing Beauty Academy teach students everything they need to know to begin or further a career in barbering. As students progress in the course, they will gain both basic and advanced techniques in men's grooming and haircutting techniques. All students also receive training and preparation for the state licensing exam.
Methods of instruction in our barber classes include hands-on practice, classroom lectures, videos, textbook readings, and much more. Our barber program is housed in our spacious, updated facility in Windsor, and includes a large clinic, practical work areas with modern functional equipment, and classrooms.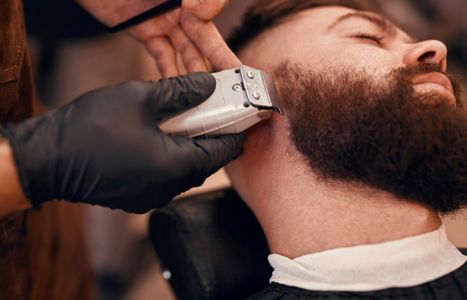 Our barber students will learn techniques in:
Treatment of hair and scalp
Facial massages and treatments
Shaving
Haircutting
Hairstyling
Permanent waving and chemical hair relaxing
Hair coloring
Disinfection, sanitation, and safe work practices
At the end of the course, students will be able to perform fundamental design techniques and demonstrate the knowledge and practical application of shaving of the face and head, trimming of the beard and facial hair, cutting hair, giving facial or scalp massages or treatments, and applying oils, clays, lotions. or antiseptics to the face, scalp, and neck. They will also be able to demonstrate the practical application of razors, shears, and other barbering tools.
We will also teach you about the business and legal side of the barbering industry, including:
Laws, rules, and regulations
Management ethics
Interpersonal skills
Salesmanship
At Designing Beauty Academy, we pride ourselves on a 100% job placement rate, meaning that virtually all of our graduates have been hired after completing their program. We also offer FREE continuing education to all Designing Beauty Academy graduates, so that you can stay competitive within the barbering industry.
If you'd like to learn more about how you can become a licensed barber, get in touch with Designing Beauty Academy today. We're happy to give you a free tour of our state-of-the-art facility in Windsor, Colorado, and offer more information about our barber program and men's grooming. We look forward to helping you embark on your exciting new career.